OUR SERVICES
Sealsource International Nano Lithium Products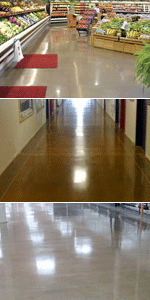 Nano Lithium Technology
Nano lithium concrete penetrating products with colors:
Looking for ultimate protection and unmatched results, then sealsource international has the technology and products for you. with lithium diference you will experience the power it brings in protecting your surface against wear, efflorescence, dusting and scaling.
Sealsource's lithium products are used in all floors including, manufacturing, warehousing, healthcare, commercial,grocery and retail. giving owners a cleaner,safer, great looking durable surface.
Nano Lithium Benefits :
• Hardens and Densifies Concrete
• Deeper Penetration
• Colours Concrete
• Anti Staining
• Durable and Dustproof
• Easy to Clean and Maintain
• High Sheen, Light Reflective Brighter Floors.
• Eco Friendly, Green Products.
CHEMICAL COMPARISSION OF SODIUM SILICATE BASED
AND
LITHIUM SILICATE BASED (SEALSOURCE) PENETRANTS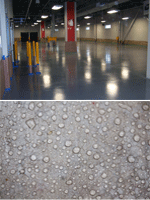 Sodium Silicate based products are inferior in their chemistry. The use of Sodium Silicate is outdated technology and inferior and can actually cause de lamination at the surface if ASR (Alkali Silica Reactivity) occurs. Sodium Silicates introduce more alkalinity into the concrete, therefore providing even more opportunity for ASR. Whereas Tri calcium Silicates (which is what the Harden X is due to its Lithium Silicate foundation) helps to mitigate concrete slabs that have ASR. Following is a quote on ASR:
(Direct Quote from the Portland Cement Association USA)
Alkali-silica reactivity is the process in which certain minerals (mostly glass type silica) in the presence of moisture are broken down by the highly alkaline environment of concrete producing a gel that expands creating tensile forces in the concrete matrix which cause cracking of the concrete. The cracking then allows more water to infiltrate into the concrete creating more gel, more expansion etc. Ultimately the concrete fails or disintegrates.
Also, the SS Harden X will penetrate deeper in the concrete, thus providing a more even and consistent chemical reaction that will produce a harder, denser, surface that will be more abrasion resistant and will hold up to fork lift traffic, etc. Also, the SS Harden X is more hydrophobic (sealed) and it will produce a greater sheen. The SS Harden X and the SS DuraGuard FST are colorless & have been used in GM, Volkswagen, BMW, Ford, and Honda plants & Wal-Mart stores world wide.
WE ALSO OFFER SAME LITHIUM BASED PENETRANTS IN ALL COLORS.
Lithium Densifiers Hard Facts :
Increases abrasion resistance extending the life expectancy and integrity of the floor.
Viscosity is very similar to water and will penetrate deeply into micro pores.
Controlled reactions provide for deeper penetration and more permanent protection.
Non-soluble and non-expansive—will not absorb water or cause the floor to sweat (SSF).
Chemically reacts with concrete to produce insoluble tri-calcium silicate hydrate, making it harder and less permeable.
Will not scratch or peel.
Reduces dusting for cleaner and safer environments.
Applies in an easy single coat—no water wash required or environmental clean up and disposal.
Can be applied on fresh, newly-toweled concrete.
Curing compounds can be applied on top of treated surfaces to provide ultimate hydration.
Does not contain sodium or potassium salts that contribute to surface crazing, efflorescence and surface ASR.
Provides high reflectivity (surface sheen) that beautifies concrete, holds up to heavy traffic and improves aesthetically over time.
Requires no waxing and provides an immediate sheen that improves with normal wear and maintenance.
Water-based, contains no solvents, low odor. Extremely low VOC content.
Permanent and durable surface resists marks, improves traction and helps prevent waterborne contaminants from staining.
Works as an excellent primer and is compatible with most resilient tile carpeting adhesives.
Makes concrete easier to clean, creating an environment that is less susceptible to the proliferation of harmful bacteria.
Prevents efflorescence and the leaching of lime.
USDA approved for incidental food contact.
Lasts longer than other floor coatings.
Why Sealsource Uses Lithium-Silicate Concrete Densifiers?
Lithium silicates are widely recognized as the best treatment for expanding the service life of concrete by improving its durability. And although lithium silicates are primarily used in commercial and industrial applications (warehouse floors), they are now increasingly being used in residential applications to provide long-term protection against surface deterioration and water penetration. Therefore, to simplify the research process for potential client Sealsource would like to explain why Sodium & potassium silicate based products are inferior to lithium silicate based products superior performance.
1. Lithium is Non-Expansive:
Sodium and potassium silicates can form an expansive alkali-silica gel in concrete that absorbs moisture and expands, and then dries out and contracts. This is why even properly cured concrete can sometimes develop crazing or map cracking after the application of sodium and potassium products. The reaction of lithium in concrete is non-expansive and therefore will not contribute to crazing, map cracking, or Alkali-Silica Reaction (ASR).
2. Less Water Solubility:
Lithium silicates do not absorb water as is the case with most sodium and potassium based products. The resulting structure is more water resistant with easier maintenance.
3. Deeper Penetration:
Lithium ions are smaller than sodium and potassium ions so they penetrate deeper into the concrete substrate. Deeper penetration will ensure better performance.
4. More Even Reactivity:
Lithium reacts more evenly throughout the concrete. Sodium and potassium have a tendency to react more violently and unevenly sometimes leaving clumps of reacted and un-reacted calcium scattered throughout and across the surface. The result is a more even application without noticeable residue.
5. Will Not Effloresce:
The potential of silicates to form efflorescence is highest with sodium, lower with potassium, and lowest with lithium. Efflorescence is a white crystal powder that can appear on the surface of concrete when temperatures are low and moisture content is high.
go to top