COMPANY PROFILE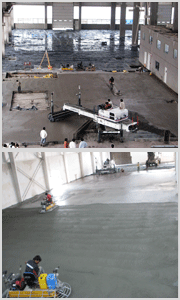 We are a Concrete Flooring Company. We are specialized in Designing, Laying and Finishing CONCRTE FLOORINGS. We have History of 20 years. Established in 1989 with introduction of Vacuum de Watering Techniques in India As Paranjpe Associate.
In 2006 we introduced copperhead XD 2.0 Laser Screed for wide bay concrete floor placements. After completing many successful projects, in 2010 we introduced S-240 Large Line Laser Screed. With this purchase we can lay and finish 3000 sq. m. floor in a day. We have laid India's first 7500 sq. m. joint-less floor in 25m x 25m panels.
With our trained work force we are experienced & equipped to say,
WE DELIVER,
FASTER. FLATTER. FLOORS.™
In 2008 we have teamed up with BEKAERT Industries to use Steel Fiber Reinforcement in concrete floorings and doing SFRC floors using Laser Screed Technique. in 2009 we have tied up with Seal Source International, USA for improving the concrete floors by using Nano Lithium concrete penetrating products to deliver dust free, stain resistant, densified, light reflective floors. In 2009 we have started working for Best Price Modern Wholesale, a joint venture of Bharti Wal-Mart. We are first Indian company to deliver world class floor for Zirakpur - Punjab store.
Since then we have completed more than 10 stores and going strong.

Vision: We aspire to be the best flooring solutions provider and always the prefferred choice of our customers.

Mission: We shall make the best use of the latest technologies in ensuring faster and flatter flooring that not only lasts long but also is cost effective to our customers.
Now we are pioneer in introducing Laser Screed Technique in India. We Own and Operate Copperhead XD2.Laser Screed. Till date we have Experience of Successfully Completing 200000 Sq.mtrs. of Concrete Flooring by using Laser Screed Technique, all over India.
We are well Experienced and Equiped to undertake jobs as per required Specifications and Standards.
We have experience to lay and finish 1700 sq.mtrs Dramix Steel Fiber Reinforced, Concrete Flooring in a Day. At Hansen Drives Ltd. Coimbatore, Tamilnadu.